Greenfire Farms Ixworth Chicks

The lucky winner of this auction will receive 10 or more unsexed day-old Ixworth chicks, a rare dual-purpose breed developed almost a century ago in the United Kingdom and now available for the first time in the United States.
Bresse are the world-famous meat chickens from France, but few people know that there is a stocky white chicken breed that was created just across the English Channel that can also thrive on pasture and produce delicious meat. The Ixworth, named for the village where it was created, was conceived by Reginald Appleyard, a British poultry innovator who also created the Silver Appleyard Duck. In creating the Ixworth he envisioned a vigorous forager that could lay eggs and provide a hearty meal of roasted chicken. In the early 1930s Appleyard combined various varieties of the Sussex, Minorca, Orpington, and Indian Games to create what he viewed as an ideal dual-purpose breed. With its stocky body, white feathers, and white skin (for some inexplicable reason Britons prefer white-skin on their meat birds and Americans prefer yellow skin) the traits of the Ixworth are decidedly tilted toward the English dinner table rather than the egg tray, but the hens do lay a large number of delicious eggs.
Despite these compelling features, the Ixworth is currently listed by the Rare Breeds Survival Trust as "at risk." About twenty breeders and four exhibitors keep Ixworths in their native land. This small group of hobbyists is the thin line that separates this excellent breed from extinction. You can now help. Our recent import of this breed provides an opportunity to enhance the Ixworth's chances of surviving this century and in the process provide you a bountiful harvest of eggs and meat.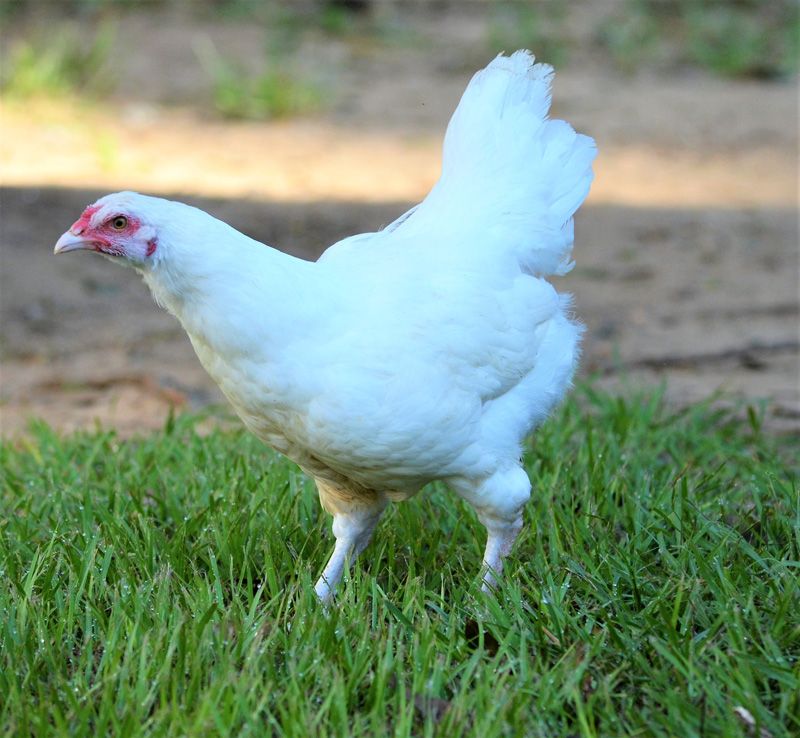 The pictures on this auction represent the quality of the stock that Greenfire Farms is currently working with. The winning bidder will receive 10 or more unsexed day-old chicks. They will be vaccinated for Marek's. These chicks will be shipped within three weeks of the close of this auction. We guarantee live delivery and the health of the chicks for 72 hours after you receive them. The auction winner pays an additional $35 in shipping costs.

By bidding, you agree to our Terms and Conditions.
Greenfire Farms raises some of the rarest poultry breeds in the world; for more information about our breeding program, please visit: