12 Greenfire Farms Auto-Sexing Chick Collection: Own an Instant Flock of the World's Most Helpful Chickens!
The lucky winner of this auction will receive 12 or more day-old chicks from an assortment of imported auto-sexing breeds! Auto-sexing is undoubtedly the most important trait to be bred into chickens in the last two hundred years, and only recently were auto-sexing breeds imported into the United States for the first time. You are bidding on a collection of imported auto-sexing breeds including Cream Legbars, Bielefelders, Rhodebars, 55 Flowery Hens, and Smaalands.
Traditionally, the American poultry industry has relied on the sex-linked function to create visually sexable chicks. If you go to your local feed store and want to buy visually sexable chicks in the spring, you are buying sex-linked –as opposed to auto-sexing– chicks. Sex-linked chicks are the first generation hybrids of two separate chicken breeds. They are produced by the hundreds of millions each year in large commercial hatcheries. If you allow the sex-linked chicks to reach adulthood and breed with one another they will not produce visually sexable chicks in the second generation. In other words, until recently if you wanted to buy visually sexable chicks in America, you'd be traveling to that feed store year after year to buy sex-linked birds produced by large commercial hatcheries. Your flock of sex-linked birds will not be a self-sustaining flock that can produce visually sexable chicks.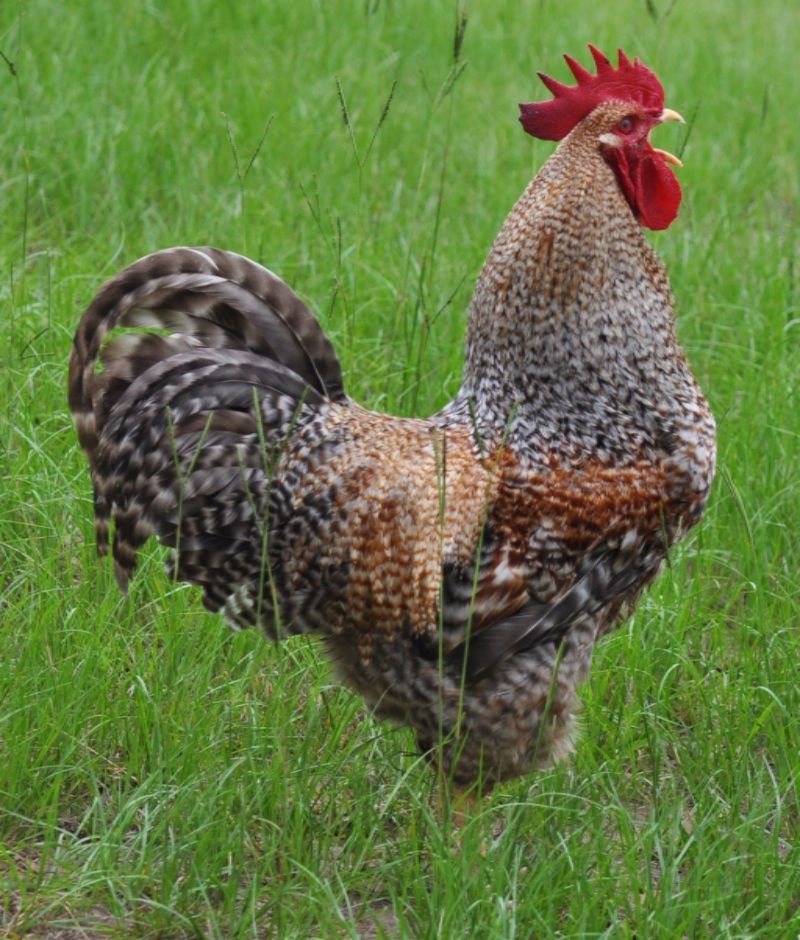 By contrast, auto-sexing chicken breeds produce visually sexable chicks generation after generation, and almost 100% of the chicks are visually sexable. For example, you can buy a pair of Bielefelders now, continue to breed their offspring with each other, and eventually your grandchildren can one day be breeding their progeny and still be producing 100% visually sexable chicks. In this sense auto-sexing chicks are like heirloom vegetables. They have a stable genome that always breeds true, and by saving a little seed stock with each generation you are ready to begin anew each year.
Auto-sexing breeds can help the small-scale chicken breeder to create a self-sustaining, visually sexable flock. This recent arrival in America of the genetics that support auto-sexing is nothing less than revolutionary for hobbyists and farmers who wish to build small-scale poultry operations. By making the choice to be a steward of auto-sexing chickens, you can play an important role in securing your food sovereignty and curating these remarkable chicken breeds. Greenfire Farms is proud to have introduced a number of auto-sexing breeds to America including the Cream Legbar (that lays blue eggs!), Rhodebar, Bielefelder, 55 Flowery Hen, and Smaaland.
The pictures on this auction represent the quality of the stock that Greenfire Farms is currently working with. The winning bidder will receive 12 or more day-old chicks from at least three different auto-sexing breeds, and more than half of these chicks will be females. They will be vaccinated for Marek's. These chicks will be shipped within three weeks of the close of this auction. We guarantee live delivery and the health of the chicks for 72 hours after you receive them. The auction winner pays an additional $35 in shipping costs.

We do not ship outside the lower 48 states.
Please pay at the close of auction.

By bidding, you agree to our Terms and Conditions.
Thanks, and good luck bidding!
Greenfire Farms raises some of the rarest poultry breeds in the world; for more information about our breeding program, please visit: