*ATTENTION SOUTHERN CALIFORNIA USERS: Please see important notice below*
8 Greenfire Farms Swedish Black Hen
The Swedish Black Hen, or Svart Höna, has the same fibromelanistic trait as that most coveted chicken breed from Indonesia, the Ayam Cemani. That is, virtually every physical feature outside and inside the Swedish Black Hen is the deepest black color. Some claim to see differences between the Ayam Cemani and the Swedish Black Hens --for example, the Ayam Cemani have been said to be more like gamefowl in body type-- but the external differences are subtle and if they exist at all can only be discerned by a highly trained eye.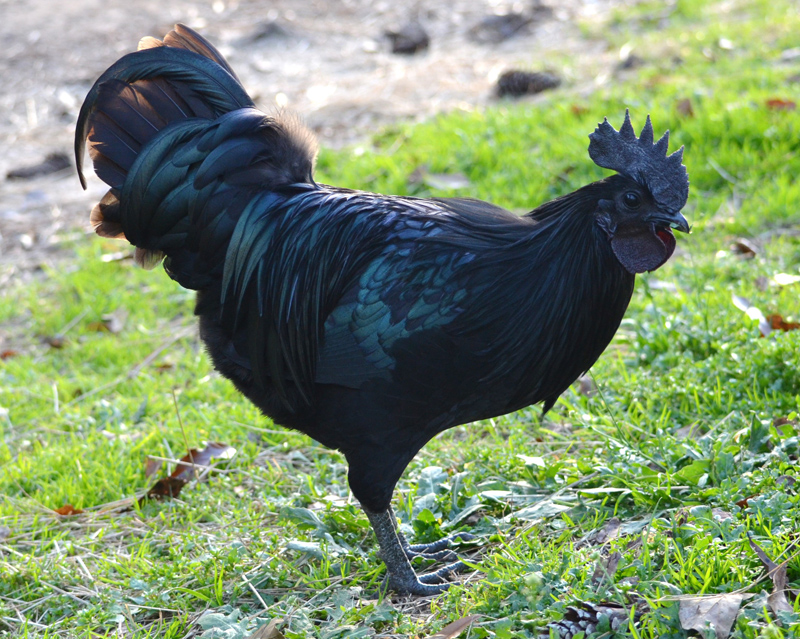 Despite these physical commonalities the Swedish Black Hen has a vastly different history and has over the centuries adapted to a much colder climate than the Ayam Cemani. Also, Swedish Black Hens are even rarer than Ayam Cemani. A recent national poultry census in Sweden verified the existence of fewer than 500 Swedish Black Hens.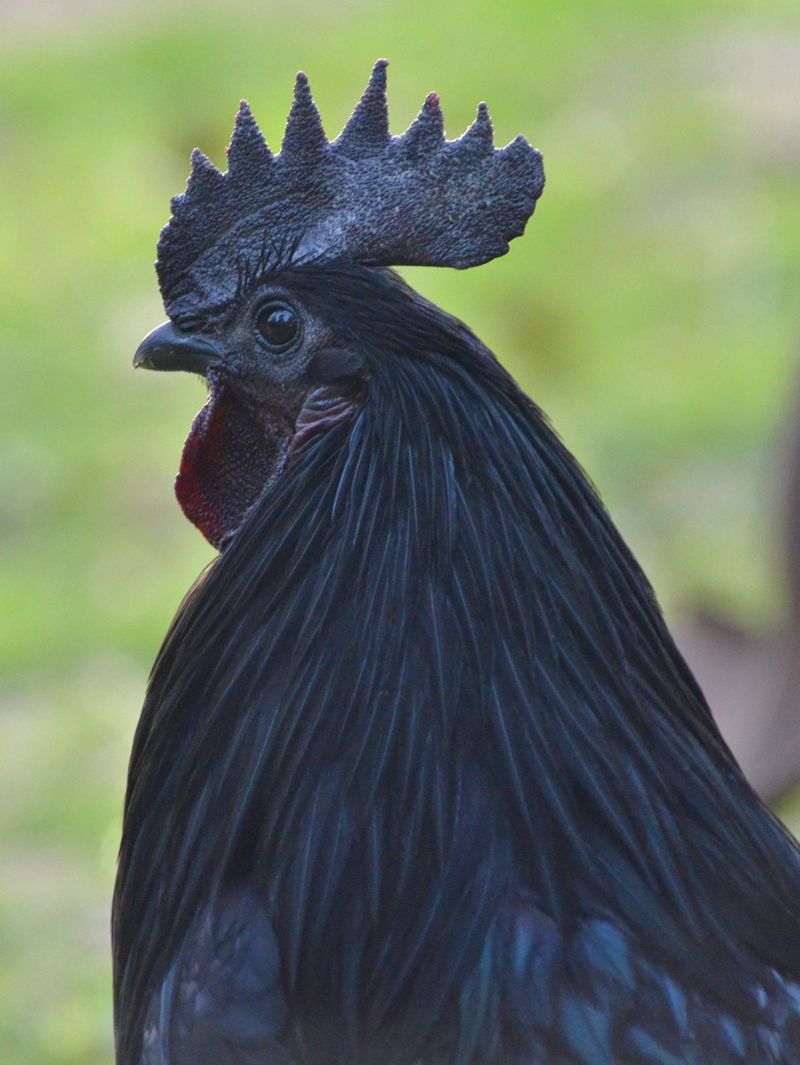 The gene that causes fibromelanosis is a mutation that existed in Asia more than 800 years ago. The gene promotes the proliferation of black pigment cells. This same mutation may have made its way in chickens transported to Norway as many as 400 years ago. A landrace of exotic black birds flourished on what is now the Sweden-Norway border, and what had probably begun as a tropical transplant to this frigid region eventually adapted to the colder climate. Other sources suggest that Swedish Black Hens made their way to the Nordic countries from seamen who traveled from Mozambique in the 1800s, although explanations vary and are often vague.
What is certain is that Swedish Black Hens are relatively small and sleek –the roosters weigh about 4 lbs.—and have a friendly, relaxed temperament. The hens lay white or cream-colored eggs. Usually the birds are almost completely black although some have deep mulberry red facial skin. Feathers shimmer with iridescent greens and purples. These birds are capable foragers and reflect the mastery that comes from the hundreds of years of free-range living enjoyed by their ancestors. A Swedish poultry keeper told us that Black Hens are known for not suffering from frostbite on their combs. Our Swedish Black Hens have roosted in the open on windy nights as cold as 20°F without any ill effects. We have found this landrace to be hardy and easy to raise despite its rarity.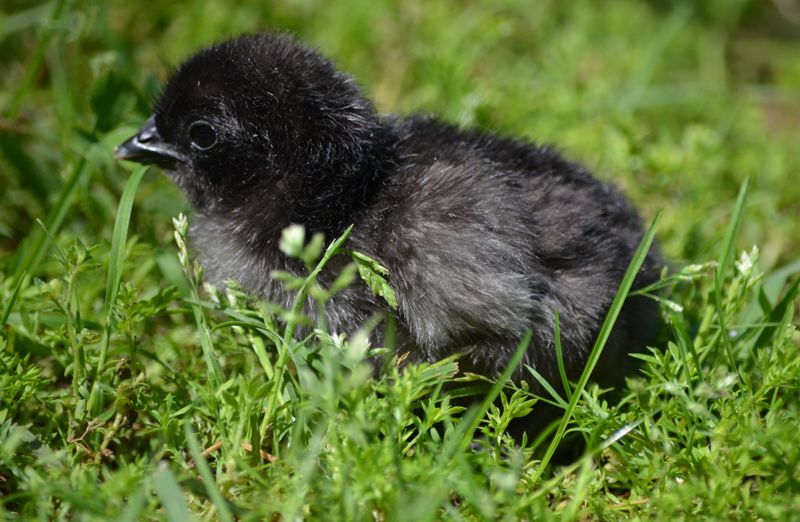 Greenfire Farms first imported a pair of Swedish Black Hens in 2012, and we subsequently imported unrelated stock in 2013. To the best of our knowledge these are the only Swedish Black Hens in America that were imported directly from their native country, thus ensuring that you receive authentic stock from the original source. Our birds were shipped from Stockholm to New York, and then were tested and quarantined by the USDA for 30 days before being released to Greenfire Farms.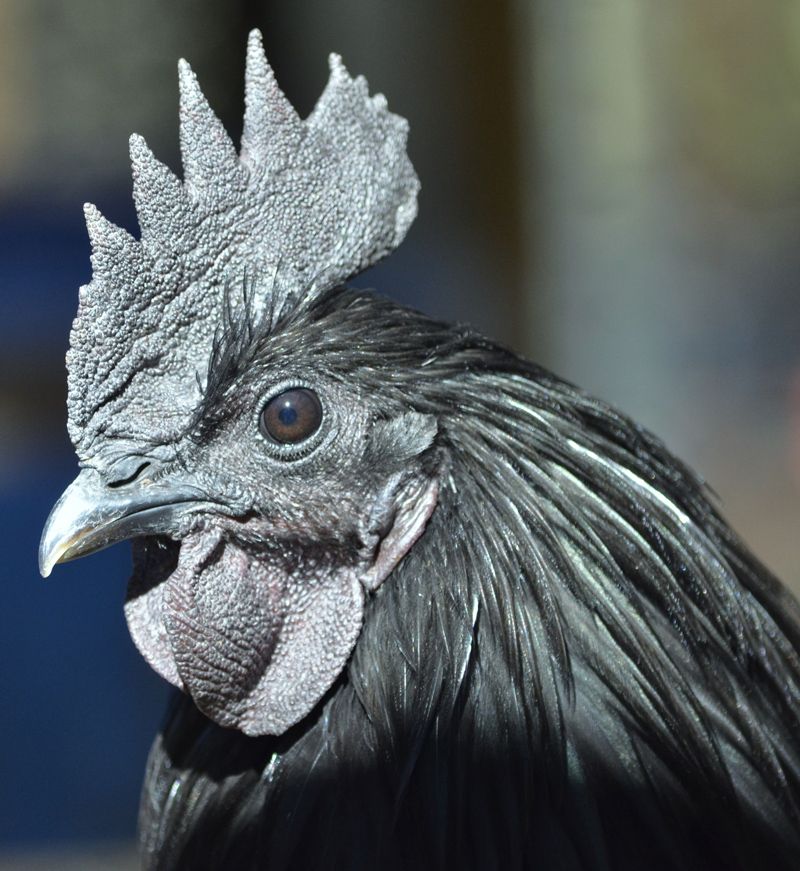 The birds pictured on this auction represent the quality of the stock we are raising. The winner will receive 8 unsexed day-old chicks that will be vaccinated for Marek's. The winning bidder pays $35 shipping. We will ship USPS Priority Express within 4 weeks after the close of this auction.
By bidding, you agree to our Terms and Conditions.
Greenfire Farms raises some of the rarest poultry breeds in the world; for more information about our breeding program, please visit:
*ATTENTION SOUTHERN CALIFORNIA USERS: The United States Postal Service will not accept shipments of poultry into or out of zip codes 90000-93599 due to the Virulent Newcastle Disease Regional Quarantine. Please do not bid if your zip code falls within this restriction, we will not be able to ship your order. Keep in mind that even if you do not live in the quarantine area your zip code may still be part of the Postal Service ban. Thank you for your cooperation.