*ATTENTION SOUTHERN CALIFORNIA USERS: Please see important notice below*
12 Greenfire Farms Schijndelaar Day-Old Chicks
The lucky winner of this auction will receive 12 or more unsexed day-old Schijndelaar (pronounced "Shine-dul-ar") chicks. And hidden behind this impossible name with colliding consonants is perhaps the coolest modern chicken breed to emerge and be officially recognized in the latter part of the 20th Century.
Schijndel is a small Netherlands village that over its seven-hundred-year history has given birth to an astounding number of competitive cyclists and one very interesting poultry breed. (Perhaps two since Schijndel is at the center of the region that gave us the Brabanter.)


The Schijndelaar was created by local veterinarian Ruud Kaasenbrood in the late 20th Century by crossing Araucanas (for their blue egg gene), Sumatras (for their long bodies), Dutch crested fowls (for their crests), Brabant fowl (for who know what) and Leghorns (for their legendary egg production). The product is a beautiful crested breed whose hens lay an abundance of green eggs.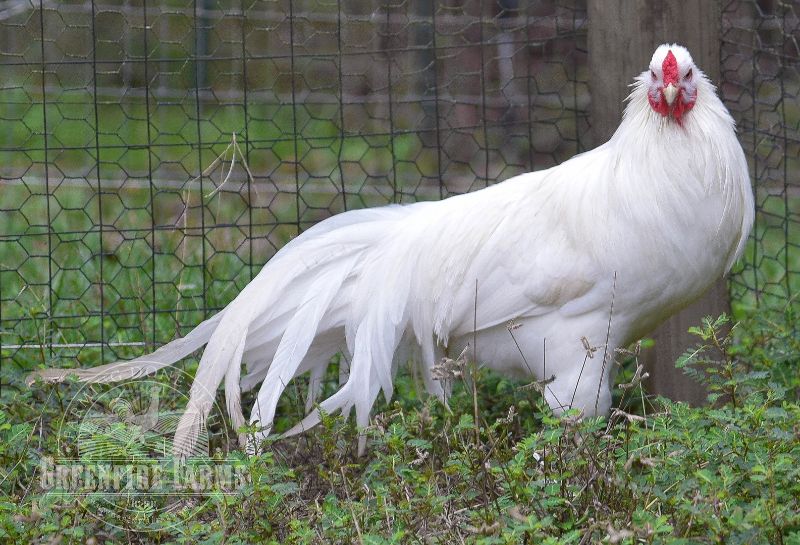 The white color was officially recognized in the Netherlands in 2001, and later also in Germany and other countries. Other colors include chocolate, blue, black, and cuckoo. The chicks in this auction will be the white variety.

The pictures on this auction represent the quality of the stock that Greenfire Farms is currently working with. The winning bidder will receive 12 or more unsexed day-old chicks. They will be vaccinated for Marek's. These chicks will be shipped within three weeks of the close of this auction. We guarantee live delivery and the health of the chicks for 72 hours after you receive them. The auction winner pays an additional $35 in shipping costs. We do not ship outside the lower 48 states.
Please pay at the close of auction.
By bidding, you agree to our Terms and Conditions.
Thanks, and good luck bidding!
Greenfire Farms raises some of the rarest poultry breeds in the world; for more information about our breeding program, please visit:
*ATTENTION SOUTHERN CALIFORNIA USERS: The United States Postal Service will not accept shipments of poultry into or out of zip codes 90000-93599 due to the Virulent Newcastle Disease Regional Quarantine. Please do not bid if your zip code falls within this restriction, we will not be able to ship your order. Keep in mind that even if you do not live in the quarantine area your zip code may still be part of the Postal Service ban. Thank you for your cooperation.